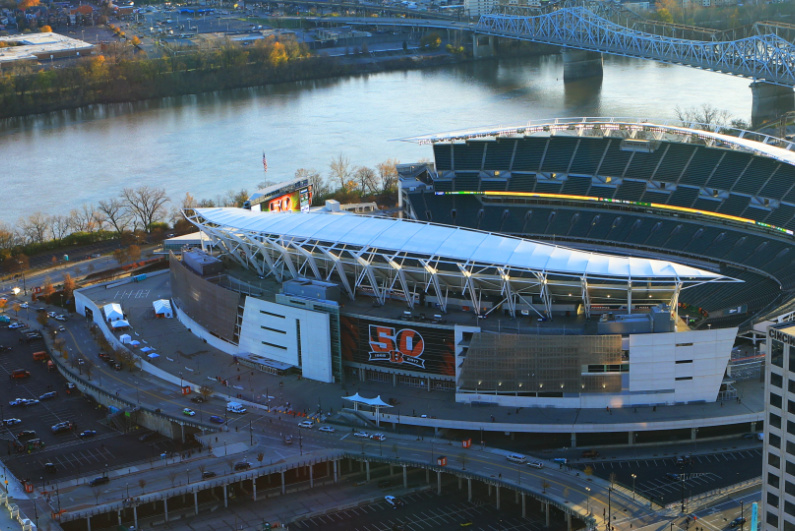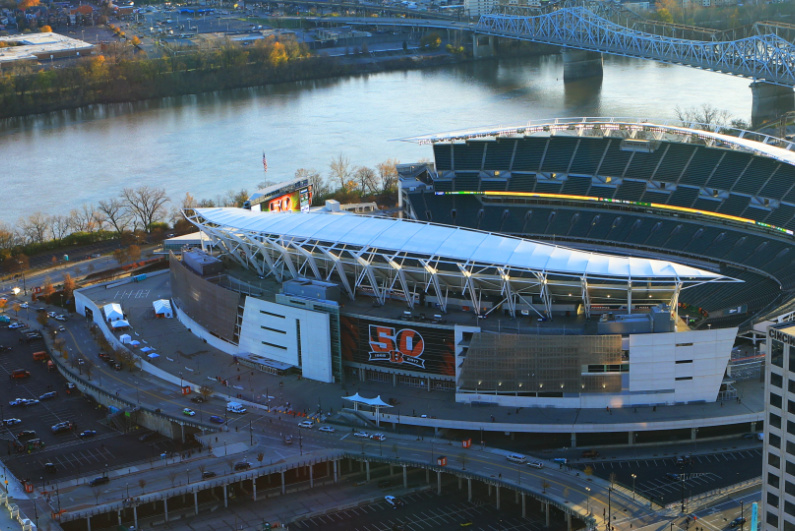 The NFL's suspension of the game between the Buffalo Bills and the Cincinnati Bengals at Paul Brown Stadium (pictured) on Monday night has left bettors in different states of play. [Image: Shutterstock.com]
Tragic event in Cincinnati
Ohio's New Year cheer at the launch of legal sports betting came crashing down at Cincinnati's Paul Brown Stadium following the NFL's suspension of the game between the Buffalo Bills and the Cincinnati Bengals after Bills safety Damar Hamlin shockingly collapsed on the field.
left sportsbooks fielding questions from bettors
Though Hamlin's well-being is first and foremost in everyone's minds, the no-result of Monday's game has left sportsbooks fielding questions from bettors as to what becomes of their wagers. BetMGM is waiting on the NFL's guidance for the game. The New Jersey-headquartered sportsbook took to Twitter on Tuesday to ask bettors for their patience until the NFL addresses next steps:
We ask for patience regarding all bets on the Bills @ Bengals game tonight. We'll update all customers as soon as possible and additional guidance regarding the game is provided by the NFL. Right now, all thoughts and prayers from BetMGM are with Damar Hamlin and his family.

— BetMGM ? (@BetMGM) January 3, 2023
According to the Las Vegas Review Journal, the game's suspension caught bettors on the hop. The daily cited Las Vegas sportsbooks issuing different advice to bettors based on the house terms and conditions regarding the affected bets.
At Westgate SuperBook and Circa Sports, bettors will get a refund if the completed game takes place eight days after the original start date. Until the NFL provides an update, however, these bets remain live.
Different house rules
The Monday night game was postponed after Bills safety Damar Hamlin suffered a cardiac arrest and collapsed on the field during the first quarter. His heartbeat was restored on the field and as of Tuesday morning, he is in critical condition and under sedation at a Cincinnati hospital.
During the game, PointsBet head of HR Patrick J. Sandusky went on to Twitter to say he'd "massively recommended" the game get suspended if he had a say:
If I'm on NFL staff right now I am massively recommending to just suspend this game. Too many unknowns. To many people rattled. Just take a human moment. Don't come back out. Period.

— Patrick D. Sandusky (@patricksandusky) January 3, 2023
According the LVRJ, Station Casinos and South Point sportsbooks will refund all bettors with wagers on the Bengals/Bills game. These two operators' house rules state games must last at least 55 minutes to be classified as official. Games that don't qualify as official have their status changed to no action, with bets refunded.
For bettors with money riding on the Circa Million IV contest, the game must be completed by 1:59am Wednesday to be "eligible to be graded as a win, loss or push." Those with live wagers via Westgate SuperContest have a deadline of end of day Tuesday for the rescheduled game to be played and graded.
Event overshadows launch
It's still unclear judging by bettors' reactions what FanDuel's status is regarding the affected bets, such as this one in which a FanDuel bettor was looking to make $324.5k on the Bengals:
Having an NFL home game in Ohio on the back of sports betting going live on New Year's weekend had all the ingredients for a feel-good party atmosphere at Paul Brown Stadium until Hamlin's tragic collapse. Fans, bettors, players and officials were, nevertheless, in support of the NFL's decision to suspend the game as Hamlin's fight for his life killed off any appetite for a game.