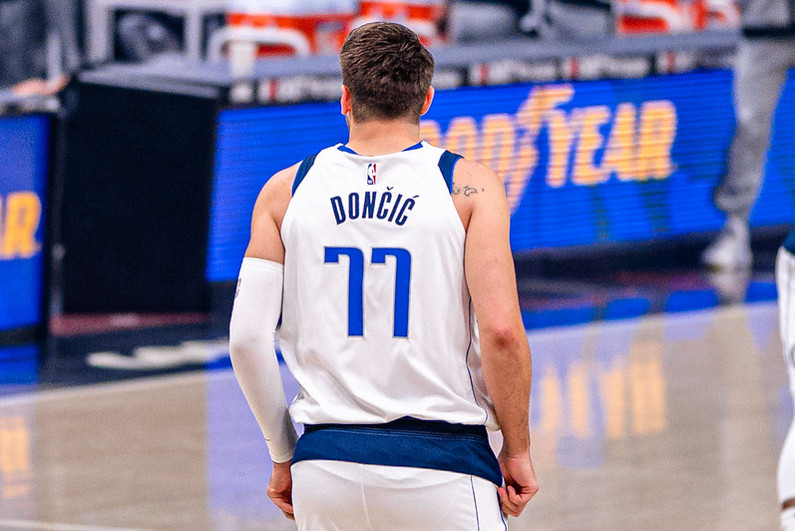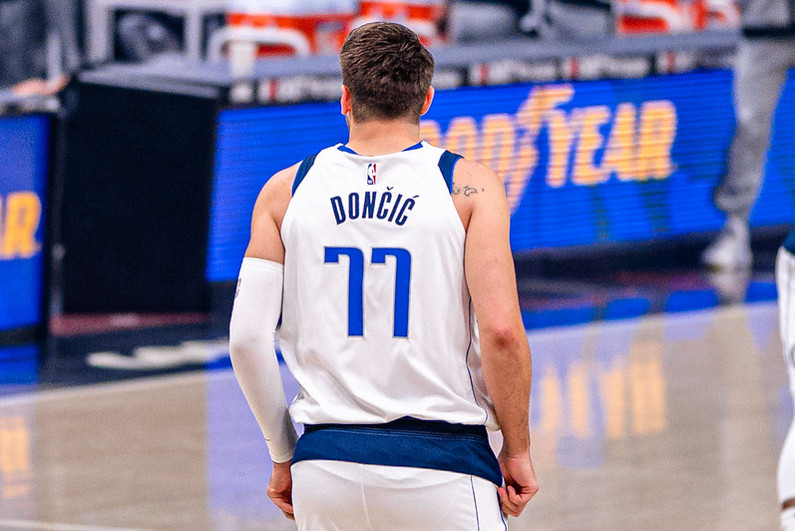 The ongoing race for NBA MVP is not only one of the best in recent history but potentially the closest of all time. [Image: Flickr.com / Erik Drost]
NBA MVP race heating up
The 2022-23 NBA MVP race is shaping up to be one of the most competitive ever as players continue to turn in truly historic performances.
Luka Dončić produced a 60/21/10 game
In less than a week, Luka Dončić produced a 60/21/10 game, Donovan Mitchell scored 71 points to go with 11 assists and eight rebounds, and Giannis Antetokounmpo became the third player in league history to record consecutive 40/20/5 box scores. That list also omits a 54-point game from Klay Thompson, a 47-point outburst from LeBron James, and several other tremendous games.
The season is nearly halfway over, and there are upwards of ten candidates that are still firmly in the mix for the MVP. Sit back and relax, basketball fans, because this could be the craziest year ever.
The favorites
At the time of writing, the odds-on favorite to win the award is Dončić (+260 on DraftKings sportsbook). His 34.3 points and 8.9 assists per night rank first and fourth respectively, along with a guard-high 8.8 rebounds per game. The early knock on Dallas' Slovenian superstar was that his team wasn't winning games, but they have since moved into the fourth seed in the West with a 22-16 record.
Jayson Tatum is next in line for the award at +350. He is averaging a career high in points (30.9) to go with 8.1 rebounds and 4.1 assists per night and is the best player on the NBA's best team, the Boston Celtics. He also has the greatest impact on winning, as he leads the league in +/-.
Reigning back-to-back MVP Nikola Jokić checks in at third in the list of odds at +400, although this may be the best year of his career yet. The 7-footer is averaging a near-triple double with 25.6 points, 10.8 rebounds, and 9.5 assists per game, is shooting a career-best 61.5% from the field and is second and on pace to have the fourth-best all-time player efficiency rating.
the first player since Larry Bird to win three consecutive MVP awards
If Jokić does win, he will become the first player since Larry Bird to win three consecutive MVP awards.
Antetokounmpo and Kevin Durant round out the top five with +450 and +700 odds. The Greek Freak passes the eye test as the best overall player in basketball and is averaging a crazy 32.1 points, 11.8 rebounds, and 5.2 assists, while Durant is scoring 29.6 points per night on a career-high 56.4% from the field and has helped lead his team on a 12-game win streak.
Next in line
There are five other players within shouting distance of the award before the odds drop severely. Notably, LeBron, who is quickly approaching Kareem Abdul-Jabbar's all-time regular-season scoring record, is outside of this grouping, though his recent performances could cause his odds to shorten.
Joel Embiid, Ja Morant, Zion Williamson, Mitchell, and Steph Curry
Players six-ten include: Joel Embiid, Ja Morant, Zion Williamson, Mitchell, and Steph Curry.
Embiid is quietly second in the league in scoring (33.5 points per night) and played the best game of his career this season, finishing with 59 points, 11 rebounds, eight assists, and seven blocks. At +1100, he is a fair distance from Morant, who is the next-closest at +2800 on the back of being the best player on the West's second-best team.
Mitchell (+2800) has been a fringe contender for the award but is now firmly in the public eye after his 71-point explosion Monday night. If he can seize his opportunity and string together a few strong weeks, he will quickly move up the charts.
Williamson (+3000) has stepped back slightly in the race for the MVP as the New Orleans Pelicans have drifted out of the number one seed, and also because of a recent hamstring strain. The severity of the injury is unknown, but any missed time will significantly hurt his odds.
Rounding out the top ten is Curry (+5000). He is out injured with a shoulder injury, but is expected back before the end of the month, at which time he will look to continue the third 30-point scoring average of his career.